More about Tashkent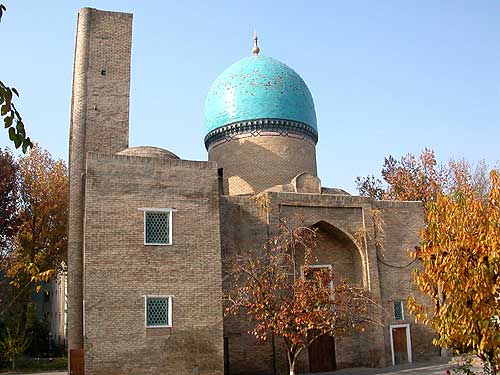 The
mausoleum of Unus-Khan
is located close to the mausoleum of Sheihantaur. It is the one of the two monumental buildings constructed in XV century, which still can be seen today. Unus-Khan of Mogolistan (1415-1487) was one of the Tashkent's rulers.
© The copy rights disponent - Walter Kaefer.

All rights reserved

No images from PAGETOUR CD or website may be reproduced without prior written consent.



Parus | Find Us | Services | Visa | Visa Form | Hotels | Flights | Foreign Embassies | Uzbek Embassies | More About Us | Fellowship | Read More
Uzbekistan Map. Links | Tashkent. Links | Samarkand. Links | Bukhara. Links | Khiva. Links
Christmas with Parus. | Bible Society of Uzbekistan. | Uzbekistan affordable dentures. | Uzbekistan mixed media articles. | Disabilities. | Uzbekistan economic partnership. | Uzbekistan mountains | Chimgan mountains | Chimgan-Beldersay | Economy of uzbekistan | Uzbekistan tourism travel services development
Parus - all Links. | Useful Links 2 | Useful Links 3 | Add your link ... | Banner exchange

Uzbekistan nature, photos | Magoki Attoron, Bukhara Jews | Samarkand Information | Parus - Useful Links | Ташкент | Самарканд | Гостиницы Самарканда | Parus Техноцентр