Hotel "DIYORBEK" welcome you!


Room amenities:
1. phone
2. Satellite TV
3. Konditsioner-zima/leto
4. hairdryer
5. fridge
6. central heating
7. shower


Service at the hotel:
1. Restaurant
2. bar
3. Breakfast - buffet
4. European and national cuisine
5. Wi-Fi
6. hotel safe
7. transfer
8. Room service 24 hours
9. Free parking
10. Laundry
11. airline reservation
Hotel "Diyorbek" - is the standard for quality and comfort. And the hotel staff "Diyorbek" will do everything to make your stay in the capital of Uzbekistan was a memorable, comfortable and safe!


The warm atmosphere of hospitality awaits you in modernly equipped and comfortably furnished rooms . The right combination of organizing services creates an atmosphere of comfort and warmth.



It offers 23 comfortable rooms of all classes, including:

7 standard single rooms - a cozy room that combines comfort and efficiency;

12 double rooms of which 6 rooms twin - comfortable rooms with two single beds and 6 rooms double - polulyuksovye spacious rooms with comfortable layout, a large double bed, upholstered furniture , a shower;

3 suites - Room " suite " with all amenities. The room has high comfort - an elegant contemporary interior , comfortable furniture .

1 super- Suite "Super Suite " has two separate rooms - room for meetings , fireplace, nice lighting , both for business and for personal meetings.

Sleeping rooms will amaze you with its comfort , comfort and convenience. Each room is equipped with showers , decorated with fine furniture . All rooms are equipped with telephone with free access to the city , cable TV and wireless Internet . Comfortable rooms are maintained central heating and air .

Complex includes hotel, restaurant and bar. Qualified and responsive staff will surround every care and attention. In the hotel you can book tickets on the train, plane , take and send a fax and computer correspondence, organize work on a computer with Internet access .



Restaurant - home to the most demanding gourmets . The ideal place to start the day with a nice cup of coffee or tea , browse the daily newspapers and receiving a lot of positive emotions , plunge into the rhythm of the business day. Personalised menus Eastern European cuisine will not leave you indifferent!

The bar has a great choice of drinks and snacks, nice music.

There is a convenient parking and free parking.


"Prices for 2015 year"
DiyorBek hotel - Accommodation rates:
Single
120 000 UZS
Double
200 000 UZS
Suite
200 000 UZS
Suite luxe
240 000 UZS
The Breakfast is included
Price for accommodation at the hotel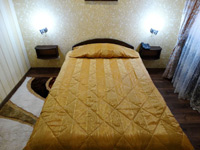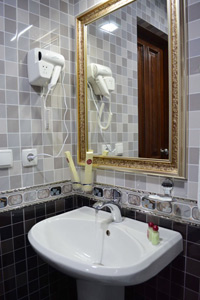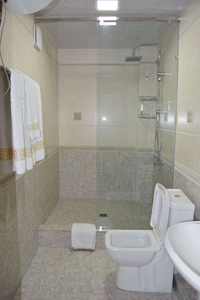 Location Map

Русская версия сайта гостиницы DiyorBek
© The copy rights disponent - Walter Kaefer.
All rights reserved