Gasherbrum I 8068 m (Hidden Peak) expedition
 Departures: June 16, 2017, June 24, 2017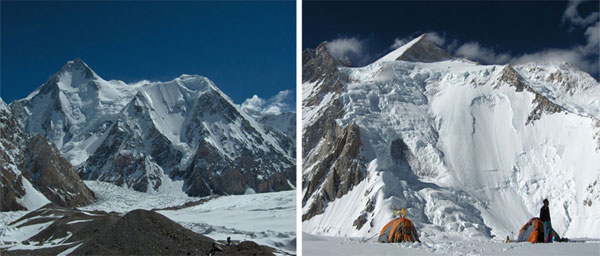 Contact us by e-mail your.climberca@ya.ru or by phone: +99898 3039846
DATES FOR 2017 DEPARTURES
1st Departure 16-06-2017 to 08-08-2017
2nd Departure 24-06-2017 to 15-08-2017
TRIP SUMMARY
Duration of Expedition 54/53 Days Islamabad – Islamabad.
Climbing days 32/31 Days.
Trekking days 14 Days.
Hotel Accommodation 7 Nights.
Group size – 10- 15 climbers.
Type of expedition – Un-guided (Services upto Base Camp only) & Semi guided (some services above the base camp are included).
STANDARD PACKAGE PRICES
10-15 Climbers US $ 4800/ – per person (unguided)
10-15 Climbers US $ 9000/ – per person (semi guided)
Single supplement US $ 350 (single room & tent)
Itinerary
16-06-2017/24-06-2017 Arrival in Islamabad; Hotel
17-06-2017/25-06-2017 Drive to Chilas (13-14 hours); Hotel
18-06-2017/26-06-2017 Drive to Skardu (9 hours); Hotel
19-06-2017/27-06-2017 Free day for final preparation and briefing; Hotel
20-06-2017/28-06-2017 Drive to Askoli by jeeps (6 hours); Camping
21-06-2017/29-06-2017 Trek to Jhula (6-7 hours); Camping
22-06-2017/30-06-2017 Trek to Paiju (6-7 hours); Camping
23-06-2017/01-07-2017 Rest day in Paiju-Acclimatization day; Camping
24-06-2017/02-07-2017 Trek to Urdukas (7 hours); Camping
25-06-2017/03-07-2017 Trek to Goro-II (5 hours); Camping
26-06-2017/04-07-2017 Trek to Concordia (4-5 hours); Camping
27-06-2017/05-07-2017 Trek to Shagring (6-7 hours); Camping
28-06-2017/06-07-2017 Trek to Gasherbrum Base Camp (4-5 hours); Camping
29-06 to 30-07-2017/07-07 to 06-08-2017 Climbing Days; Camping
31-07-2017/07-08-2017 Trek to Concordia; Camping
01-08-2017/08-08-2017 Trek to Goro I; Camping
02-08-2017/09-08-2017 Trek to Khuburste; Camping
03-08-2017/10-08-2017 Trek to Jhula; Camping
04-08-2017/11-08-2017 Trek to Askoli; Camping
05-08-2017/12-08-2017 Drive to Skardu; Hotel
06-08-2017/13-08-2017 Flight to Islamabad or drive to Chilas; Hotel
07-08-2017/14-08-2017 Free day or drive to Islamabad; Hotel
08-08-2017/15-08-2017 Departure from Islamabad
SERVICES INCLUDED IN THE PACKAGE OFFER 2017
1 Transportation
• Transfer from the airport to hotel on arrival in Islamabad.
• Transfer from the hotel to the airport on departure in Islamabad.
• Transfer from hotel to airport in Skardu.
• Air-conditioned transportation for briefing, debriefing and sightseeing.
• Transfer by air-conditioned mini bus from Islamabad to Skardu. The specification of minibuses are as below:
7-10 pax Toyota Coaster (19 seater)
11-16 pax Toyota Coaster Saloon (25 seater)
• 4×4 jeeps/Toyotas from Skardu to Askoli and from Askoli to Skardu for members & luggage.
• One-way air-fare between Skardu-Islamabad.
• Free baggage allowance for members personal gear and collective expedition equipment would be as below:
Way up (Islamabad to Askoli) 75 kilograms per climber
Way down (Askoli to Islamabad) 50 kilograms per climber
Note: Flights to the Northern Areas of Pakistan are subject to weather condition. In case of flight cancellation/non availability of seats surface transfer will be provided).
2 Accommodation & Meals
Accommodation will be provided based on following hotels sharing twin/double occupancy.
Islamabad (4 nights with bed & breakfast) Hill View Hotel/Grand Regency Hotel
Chilas (2 nights with three meals) Shangri-La Midway/ Panorama Inn
Skardu (3 nights with three meals) Mashabrum Inn/ Concordia/K-2 Motel
Note: Alternate accommodation will be provided if rooms in above mentioned hotels are not available.
Check in before 12:00 pm is subject to previous night charges
3 Porterage (Low altitude porters)
• Low altitude porters to carry expedition food, camping equipment, personal gear and climbing equipment.
• Free baggage allowance for members personal gear and collective expedition equipment would be as below:
Way up (from Askoli to Base Camp) – 3 porters per climber
Way down (from the Base Camp to Askoli) – 2 porters per climber
Note:
• For extra personal luggage please check extra luggage charges.
• The porter cost is inclusive of their wages, food, equipment, kerosene oil, tarpaulin, cooking stove and insurance.
4 Taxes and fees
• Royalty Fee, Environment Fee & Liaison Officer's Cost
• Road taxes
• Camping fees during trek.
• Bridge crossing fees.
Note: In case of pollution, fine/penalties will be the responsibility of expedition member or group.
5 Camping Equipment & Accessories
• Two men sleeping tent for camping shared by two pax
• Toilet tent
• Shower Tent
• Complete mess tent/table/chairs
• Store tent (for large groups)
• Mattresses
• Toilet papers etc
Note: In case of severe damage to sleeping tent, the cost of tent will be charged.
6 Kitchen Equipment
• Kitchen tent
• Kitchen utensils
• Lamps for light
• Cooking stoves
7 Food (Meals) during expedition
• Breakfast
• Lunch
• Dinner
• Tea, green tea or coffee
Menu:
Lunch: One dish lunch at the base camp and picnic lunch during trek
Dinner: Complete meal; soup, two/three dishes, salad and desert
8 Fresh Meat and Vegetable
CLimberCA has special arrangements to supply fresh meat and vegetables to the base camp time to time besides tin food/fruit.
9 Local staff
Daily wages, food, kit, insurance, accommodation of following staff is included in the price.
• Liaison Officer/Local guide
• Cook
• Cook helper
• Porter Sirdars
Note: Helicopter rescue of staff is not included as no insurance company offers this service in Pakistan.
10 Base Camp Representatives
CLimberCA has representatives at the base camps of major peaks (K-2, Broad Peak & Gasherbrum) to look after expeditions with satellite phone facilities. In case of any issue or urgent requirements you just need to talk to our representative. If porters are required on urgent basis our representative will make necessary arrangements.
SERVICES NOT INCLUDED
Below mentioned services are not included in our package, but some of them can be provided on request in advance. Please contact ClimberCA for further detail.
• International air ticket & airport taxes.
• Visa fee for Pakistan & personal insurance of the clients.
• Cargo fee & custom charges for import and export.
• Beverages & laundry
• Sleeping bags, personal clothing and climbing gear.
• High Altitude Porters
• Food above base camp for members and High Porters etc.
• Any other service that is not mentioned in the list above.
NOTE
• All expedition members will go together in one group and come back together. If group splits due to personal reasons, the cost will be charged additionally.
• Extra hotel nights (if any) will be charged to expedition members.
• Any extra cost due to road blockade or any other unforeseen reason will be charged in addition to normal package offer.
• If government imposes a fee or new condition resulting extra charges (after the package is submitted) the same will be charged in addition to normal package offer.
ClimberCA International Consortium
www.ClimberCA.com
www.ClimberCA.ru
www.PageTour.org
skype – dmitriy.page
pagetour@ya.ru
tel. +99898 3039846 – GMT+05:00