Hall - Hotel Sayohat
Room - Hotel Sayohat
Double Room - Hotel Sayohat
Restaurant
Business the centre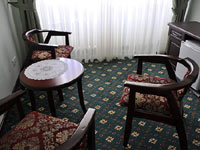 Hotel "Sayohat"

Hotel "Sayohat - constructed still in 1969, after change internal and appearance in 2009 again has opened the doors, having given service at high level to visitors of the capital traveling on cities where there passed the Great Silk way.

The hotel is located in 10 minutes of driving from city centre, and to the nearest metro station of all some steps.

The hotel gives 81 numbers for placing. All numbers are equipped by modern furniture, phone, the TV, a refrigerator.

The fountain accompanied by musical light show, involves the population of a city of Tashkent and visitors to take pleasure in luxury and comfort in the evening.

The hotel offers following types of service:
- Business the centre
- Service in numbers 24 hours a day
- The order railway, air tickets, taxi
- The Internet
- Exchange
- A Laundry
- A sauna
- Massage
- Pool
- Parking place

Restaurant "Sayokhat - on 600 landing places is in a complex with hotel and represents a unique Palace with an amazing architectural ensemble for carrying out of Wedding celebrations and the Gaul-suppers.

Restaurant "Atlanta" on 120 landing places second-large, it is possible to celebrate any celebration.

Conference hall on 50 places it is equipped under all requirements of modern presentation technologies.

Accomodation prices:


"Prices for 2015 year"
Hotel Sayohat - Accommodation rates
Standard Single SSB (with shower)
50$
Standard Single SSA (simple)
55$
Single Deluxe
65$
Single Lux
75$
Twin-A (simple)
90$
Twin-Lux
100$
Triple
100$
Four-seated
110$
Suite
120$
Only breakfast is included in the price.
Dinner (buffet) – 15$ Supper (buffet) – 15$
---
English version of a site of Hotel Sayohat
Русская версия сайта Гостиницы "Саёхат"



© The copy rights disponent - Walter Kaefer.
All rights reserved