Lux rooms Pools Active rest Restaurant
---
Layner Resort
In the territory of the complex, there are 8 double floor apartment building, from them, 6 Standard and 2 Luxe apartment buildings. The hotel offers 100 cozy and comfortable guest rooms.
As you settle in one of the rooms, you will feel world class comfort and coziness. Enjoy of all possibilities and qualities of our hotel, which is offered to every guest:

Buffet breakfast
Swimming Pool – Outdoor (adults & kids)
Football pitch
Volleyball & Basketball grounds
Tennis court
Swimming Pool – Indoor
Fitness room
Sauna & Turkish hamam
Out & indoor playgrounds
Live music & show programs
Business center
3D Cinema
In & Outside Parking's
24 hours security
Non-smoking rooms

Price for accommodation at the hotel

book your place
Our Telephone: +99890 188 6128
+Telegram +WhatsApp
The adviser Olga.
To find out the information on hotel...
"Гостиничный курорт в горах"
Гостиница "Лайнер" - Горно Курортный комплекс
ТАРИФЫ НА ПРОЖИВАНИЕ «LAYNER» с 08 ЯНВАРЯ 2023


* В номерах Люкс размещение всех детей бесплатно.
• Будни: Воскресенье-пятница
• Во всех номерах размещение детей до 6 лет бесплатно
• В номерах Стандарт, Делюкс и Полулюкс размещение 1 ребёнка до 14 лет бесплатно
• В номерах Люкс размещение дополнительного взрослого и 2 детей бесплатно

Стоимость за дополнительное размещение в сутки:
• Ребёнок 6-14 лет: 200 000 сум
• Гость 14 лет и старше: 400 000 сум

Вышеуказанные цены включают в себя:
Завтрак
2 бутылки воды 0,5л ежедневно
Предметы гигиены, бельё
Набор полотенец и халатов
Уборка в номере
Взрослый летний бассейн (летом)
Детский летний бассейн (летом)
Закрытый бассейн по графику
Закрытая площадка для детей
Детские игровые площадки на территории (летом)
Футбольное поле
Баскетбольная и Волейбольная площадка
Теннисный корт
Спортивный инвентарь
Бильярдная
Настольный теннис
Услуги детской няни
Бесплатный Wi-Fi на территории
Спутниковое телевидение
Развлекательные мероприятия
Закрытый Кинотеатр
Фитнес-клуб
Медпункт
Охраняемая стоянка
... и многое другое
Консультанты.
Tel.: +99890 188 6128 / +99890 352 7483
+Telegram +WhatsApp

The hotel offers 100 guest rooms, including:
48 Standard Twin (one room with two separate beds)
36 Standard Double (one room with one king size bed)
8 Luxe Double (Suite with two rooms, living & bedroom and one double bed)
4 Luxe Twin (Suite with two rooms and two separate beds)
4 Deluxe Twin (Junior suite with rooms and two separate beds).


Number of rooms, in the standard building 14, in the suite building 8.

There is all terms for comfortable living in the guest rooms, 42" LCD TV with satellite channels, telephone connection in the room, air conditioning. Exquisite furnishings, cozy and spacious rooms will give you a best rest and calmness.

---

Dear Guests, we are pleased to welcome you at our mountain resort complex Layner!
Start on a journey in the world of comfort and coziness on board of classy and hospitable Layner!

Complex situated in the Tashkent region, in Chimgan Village, only in 8 km from the Chimgan ropeway. The beauty of mountains and nature will give you the sense of calmness and rest!

Feel, how the fresh mountain breeze fill away sails of our Layner and gives you positive emotions and good mood!
Diving into the world of wonderful discoveries starts from the main gates of Layner, fulfilled in best maritime traditions and made by top masters and designers of Uzbekistan.

Soon you will be on board of LAYNER, you will contact with the world of beauty and fineness!
Authoring landscape waterfalls and impoundments, gardens and garden house's creates feeling of calmness and enjoyment of the nature's beauty and work of master's touch!

Just a possibility to digress from day to day worries and problems of the big city, world class service provisioning, providing of all guests with necessary care and comfort, we see it as a main target of friendly team of the mountain resort Layner.

On board of the Layner is everything included for family holiday, where everyone will find the rest and engagement by taste!

Indeed the Layner it is – new resort complex, corresponding to the highest standards and requirements of quality and best relaxation for you and closes people!

On board of Layner you will find hotel complex for 100 guest rooms, furnished with author and exclusive furniture and also equipped with everything for your comfortable relaxation!

Restaurant Layner will welcome you to wonderful and bright cooking adventure on dishes of various countries of the world, cooked by internationally experienced chefs!

Chef of the restaurant Layner spoiled strict gourmets of Uzbekistan, Russia and UAE with his culinary masterpieces.
Also at your disposal outdoor pool with pure mountain water, constant filtration and heating! We did not forget about our little friends, for them there is remarkable children's pool and fascinating children's playground!

All-year Turkish hamam and Finnish sauna, fitness center and "Phitobar" lets you to keep fit even on holiday!
For amateurs of active and sport rest, there are football and basketball pitches, tennis court, made from best materials by world standards for sport grounds, which are enabling to avoid trauma and injuries!

In the territory of the complex there are security parking's!

---
Family zone situated at the separate building, has got two floors with entertainments for each member of the family.

On the ground floor situates children's playground, equipped by very strict requirements of safety and comfort!

Lots of toys and amusements will allow your children to play and joy free off age and season!

For the children also working children's bar, offering miscellaneous fruity and milky cocktails, drinks and sweets!

As meanwhile your children playing, you may watch movies at the 3D cinema, also situated in the territory.
While your children playing there, you can watch 3D cinemas, also situated in the territory.

On the second floor, you are greeted by Bill Pub, paradise for amateur and professional billiard players; there are three tables for Russian billiard and one for snooker!

In one word, you and your family will enjoy at the Family zone!


---
Photos
---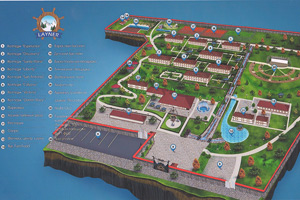 Standard Twin (Стандартные номера с раздельными кроватями)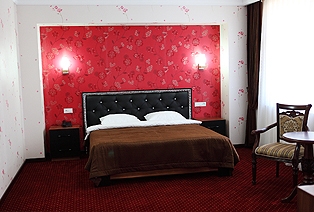 Standard Double (Стандартные номера с одной большой кроватью)




Deluxe Twin (Полулюксовый номер с двумя комнатами и двумя раздельными кроватями)




Luxe Double (Люксовый номер с двумя комнатами и одной большой кроватью)




Luxe Twin (Люксовый номер с двумя комнатами и двумя раздельными кроватями)