Lyabi House Hotel in Bukhara
License #: 373-98/447-03

29 double rooms with two single beds / 4 double rooms with one bed + cot if necessary / bath and shower / satellite TV / hairdryer / direct dial telephone. Lobby. Restaurant. Courtyard. Conference hall. Fax and Internet at the Reception. Laundry. Massage.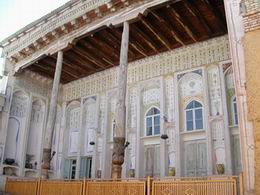 Find genuine hospitality, competence and convenience nearby Lyabi Khauz complex, amidst a delightful environment of the old and charming part of Bukhara.

The first floor large 19th century hall with colorful traditional ornamental designs and Hebrew inscriptions is ideal place for relaxing and tea drinking. There is also a large summer aivan (a portico) with traditional low tables for a pleasant outdoor rest.

The Hotel offers a large range of meals including national, European and vegetarian.



Price for accommodation at the hotel

English version of a site of hotel Lyabi House
Deutsche Version der Seite Lyabi House
Русская версия сайта Lyabi House
© The copy rights disponent - Walter Kaefer.
All rights reserved