Luxe room
. . .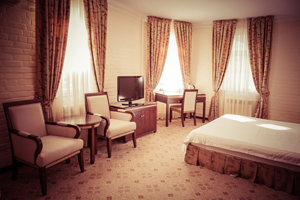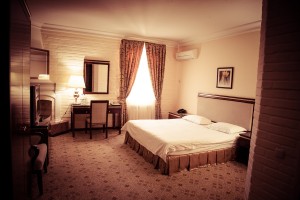 Deluxe room
. . .
Standart room
. . .
---

Welcome!
Hotel Samir is one of the few hotels in Tashkent that really pretends to be a real European hotel with 3 stars. The hotel is located in a secluded, ecologically clean place near the city center.
For those who like peace, quiet and country air, the hotel "Samir" is the most suitable place.

The main credo of the hotel is that the hotel staff finds an individual approach to each client. You can see for yourself by staying at the hotel. The interior of the hotel is designed in European style, soft bedding prevails. Everything is done here in order to relax as much as possible and feel yourself surrounded by people who are not indifferent to you.

Apartments
A high level of service, an atmosphere of privacy, peace is "Samir". For comfortable pastime in the capital we offer you three types of rooms: Standard, Junior Suite and Suite.

In the rooms everything is thought over to the smallest detail for fruitful work and unforgettable rest:
• satellite TV channels
• air conditioning
• mini bar
• Wi-Fi Internet
• telephone communications
• individual safe

The hotel rooms are decorated in a classic style, creating an unforgettable atmosphere of the hospitable east.




Price for accommodation at the hotel



Hotel Facilities
• Restaurant 24 hours.
• Breakfast in the room
• Free Wi-Fi Internet in rooms and public areas
• Tours / ticket assistance
• Messenger services
• Luggage room
• Room-service 24 hours.
• Laundry service 24 hours.
• Morning alarm clock
• Calling a taxi
• Safe deposit boxes in the rooms
• Transfers - Airport and Train Station
• Free Parking

The hotel staff is always happy to help guests by making requests immediately. For obtaining any information about Uzbekistan, about the location of restaurants, embassies, etc., you can consult with the staff.

Bar & Restaurant
The restaurant is ready to pamper the visitors with the best European and national dishes from the chef. The cozy atmosphere and friendly staff will do everything necessary to make the evening unforgettable. The system of payment also implies the provision of many additional services, including breakfasts, soft drinks, city calls, internet and movies at no extra charge. Thanks to this you will feel at home and avoid unnecessary expenses.



Samir ใ๎๑๒่ํ่๖เ โ าเ๘๊ๅํ๒ๅ - Uzbekistan
---
Our Telephone: +99890 188 6128
+Telegram +WhatsApp
The adviser Olga.
To find out the information on hotel...
Uzbekistan
All
Hotels Uzbekistan
and
Tashkent Hotels
Tashkent
|
Hotels
|
Map
Samarkand
|
Hotels
|
Map
Bukhara
|
Hotels
|
Map
Khiva
|
Hotels
|
Map
ฉ The copy rights disponent - Walter Kaefer.
All rights reserved