Recommended Hotel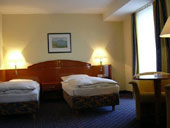 Book 3 or more nights and get free one way Airport transfer
Shodlik Palace Hotel, having 4 stars according to the international classification, is located in the center of the city, but aside of busy streets. Calmness and quiet, reigning around it, will become the guarantee of good rest after long trip, and will help to gather strength before following hard day. 9-storey building of the hotel provides 107 rooms of four classes, so that guests will be able to choose the place to relax, correlating finance abilities and wishes. The hotel offers rooms for businessmen, for couples, and for those, who trips by economy-class.
Hotel Shodlik Palace offers at your service the restaurant "La Strada", divided into two zones, and also the comfortable bar "Hemingway". In addition the Hotel Shodlik Palace is ready to offer you small gym, sauna and massage cabinet.
Free Wi-Fi network covers the whole hotel. The closeness of underground station and the Theatre Ilkhom, which is one of the leading and progressive theatres of Tashkent, can be attributed to the undutiful comfort and advantages of the hotel. And from some rooms you can get the view of the main staduim of the capital - Pakhtakor.

Property Amenities
- Bar
- Restaurant
- Fitness room
- Gym
- Sauna
- Massage cabinet
- Hotel safe
- Elevator
- Currency exchange office
- Gift shop

Hotel Services
- 24 hour room service
- City tours
- Laundry service
- Luggage service
- Airport and Train station transfer, price: extra charge
- Extra bed, price: extra charge
- Internet, price: free
Rooms: wi-fi
Lobbi: wi-fi
Hotel: wi-fi



Price for accommodation at the hotel


We value your opinion!
please contact us.

.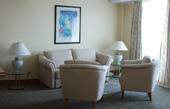 Русская версия сайта гостиницы ШОДЛИК ПАЛАС
© The copy rights disponent - Walter Kaefer.
All rights reserved