Welcome!





Business center
Double rooms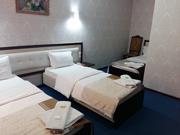 Triple room


Lux room





Lux room





Bar & Restaurant


Restaurant









Location

International Airport: 15 minutes

Tashkent Railway Station: 10 min.

Centre of the Tashkent: 5 min.

Welcome to the hotel "Sofia"

Hotel "Sofia", 4 km from the city center - a place for comfortable rest and work.
The secluded location of the hotel gives guests peace and quiet of the city, road noise. With this in our rooms invite you to relax and sleep, spend time with benefits. Our hotel is full of comfort and friendly staff takes care of the comfort of each client.
Not far from our hotel there are 10 national and international restaurants, market, hospital, diagnostic center, wedding hall, bank, dry cleaning, parking, car, bank, etc.

Our hotel offers:
- A variety of rooms,
- a restaurant,
- A banquet hall for 50 people,
- Parking
- 2 conference halls (small and large), equipped with all necessary equipment,
- Billiards,
- table tennis,
- gym.

We have business meetings and seminars with Wi-Fi access will be held at the highest level.

Top chefs at any time sensitively fulfill all requirements of the guests. The restaurant menu is rich in a variety of European and Oriental cuisine.
Our customers happy modern equipment rooms and the quality of Wi-Fi. The staff is always ready to help you.

Prices are always pleasantly pleased. Should you ever visit us, and you will gain a reliable partner in our face. Our administration always ready to discuss conditions of mutually beneficial cooperation with you.


Price for accommodation at the hotel




Our hotel - this is your home.





SOFIYA гостиница в Ташкенте - Uzbekistan


---
Our Telephone: +99890 188 6128
+Telegram +WhatsApp
The adviser Olga.
To find out the information on hotel...
Uzbekistan
All
Hotels Uzbekistan
and
Tashkent Hotels
Tashkent
|
Hotels
|
Map
Samarkand
|
Hotels
|
Map
Bukhara
|
Hotels
|
Map
Khiva
|
Hotels
|
Map
© The copy rights disponent - Walter Kaefer.
All rights reserved