Suite
Superior Twin
Superior Single
Standard Single room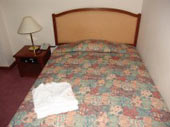 Single room
For three decades Hotel "Uzbekistan" has been cordially accepting visitors from all over the world, demonstrating a combination of high quality services along with Eastern hospitality. Hotel architecture characterizes a blend of European and Eastern styles. It is one of the most reputable buildings in Tashkent.



Hotel "Uzbekistan" is situated in business centre of the city, by metro station "Amir Temur". It is 10 km away from International Airport, 7 km away from Northern Railway Station and 12 km away from Southern Railway Station.


By the Hotel there is an ancient square with century old trees, erected in the beginning 20th century, and Amir Temur Museum is also nearby. Passing the square you come across Tashkent "Broadway" - the main city street with a bunch of cafes, bars, pubs, chayhanas, and souvenir shops. It is the favorite place to walk for city residents and guests.


Price for accommodation at the hotel




© The copy rights disponent - Walter Kaefer.
All rights reserved